Boys-
I've been wanting to write to you for a few weeks about what it's been like in the time of CoronaVirus or COVID-19.  I've been wanting to tell you that for the two and a half months that we've been in Bethany, you've been doing school digitally everyday on a relatively new app called Zoom.  I was going to tell you how we wipe down the groceries with disinfectant … how I've been representing people who got the disease at work for free … how when someone dies, especially someone older, you assume it was likely COVID … how Mom and I have virtual "double dates" with other couples.  I was going to tell you how, after eating out 4-5 times a week for years, we didn't eat out for two months – not even take out.  Restaurants all over Maryland and Delaware haven't been allowed to open for months.  Stores haven't been allowed to open.  I was going to tell you that this shit is crazy!!!
I was also going to tell you that this became a crazy political issue.  Our Nation is so divided.  Many people believe it's all made up.  Many people think there's an over-reaction, that nothing should have been shut down.  Even though there are currently over 100,000 dead Americans.  There are people who think we haven't gone far enough.  We're supposed to social distance – meaning stay six feet away from each other.
I was going to tell you that I go back to Pikesville once a week to deal with mail at home and at work.  I wear a mask and take groceries to Grandma and Grandpa.  The rest of the time I get to work from the beach.
I was going to tell you how great it was to get to spend so much time with you guys and Mom.  I was going to tell you how you each learned to ride a bike without training wheels and you each caught your first little bluegill.  It was a true gift that many don't ever get.  A gift that my parents never got with me in this same way.  The usual busy life kind of stopped in most ways.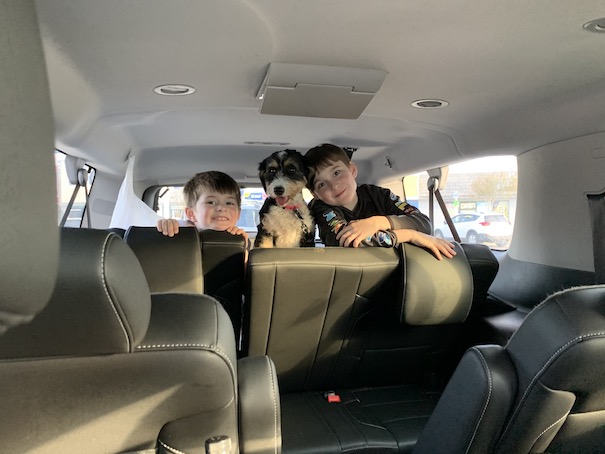 I was going to tell you all of this.  And I guess I just did.
But I've also got to tell you about another virus – one that's been with us since forever and will be here a lot longer than COVID will.  It's racism.  There's outward, obvious racism – hurting people based on their skin color, calling them names, killing them, assaulting them, etc.  But there is pervasive, institutional racism.  People of color are dying from COVID at a higher rate than others.  People of color live in communities with water that's not drinkable.  People of color feel occupied in their own supposedly free communities.
George Floyd was killed by a police officer in Minneapolis less than a week ago.  The officer had his knee in the man's neck for almost nine minutes.  The man said he couldn't breathe.  He called for his Mom.  He was scared for his life.  He was right to be scared for his life.  George Floyd was unconscious for the last nearly three minutes of the knee in his neck.
Tonight, there are protests and uprisings in Minneapolis, Atlanta, Washington, DC, Dallas, Los Angeles, Louisville, and New York, probably among other places.  A voice is being brought to the history of injustice.  I can't explain to you in these short passages how pervasive this racism virus is.  It's been with America forever.  Black Americans were once slaves, and not so long ago.  My grandparents grandparents were alive at the tail end of slavery.  That's not so long ago.
I will help educate you about racism.  Your school will help educate you.  When you get old enough, you must educate yourself.  The true, unglossed history of our world and our country will help you understand people and will help you understand the future.
What a fucking world boys.  Part of me is sorry you guys don't get to live in a more boring world.  Part of me feels like you boys will learn to thrive in any condition and will help the world to heal and thrive.  I'll be here.
Love,
Dad